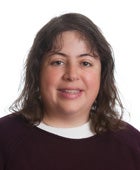 Research methods expert Dr. Nancy Scammacca Lewis will lead this year's MCPER Summer Series: "Effectively Summarizing and Communicating Research Results." All of the following sessions begin at 11 a.m. in the Pittenger Room (SZB 418):
July 9: Statistics and Research Methods Primer
July 16: Synthesizing Research
July 23: Communicating Results Descriptively
July 30: Communicating the Practical Significance of Results
August 6: Communicating the Costs and Benefits of Interventions
More information will be posted as it becomes available.
Lewis has worked on projects involving quantitative and qualitative research design and data analysis, meta-analysis, program evaluation, survey construction, and survey data analysis. Her expertise includes advanced statistical techniques such as hierarchical linear modeling, structural equation modeling, and regression-discontinuity analysis. She has a Ph.D. in educational psychology and an M.A. in program evaluation from The University of Texas at Austin, as well as an M.A. in clinical psychology from Wheaton College and a B.A. in psychology from Northwestern University.