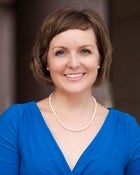 Sarah Powell, a principal investigator in MCPER's Mathematics Institute, has won the Samuel A. Kirk Award for the best practice article of 2015 in the journal Learning Disabilities Research & Practice.
Powell co-authored "Intensive Intervention in Mathematics" with Lynn Fuchs of Vanderbilt University. For a description and full citation of the article, visit the MCPER Library. For more information or to obtain the article, visit the journal's website.
Powell joins Eunsoo Cho and colleagues, who won the Kirk Award for the research category.