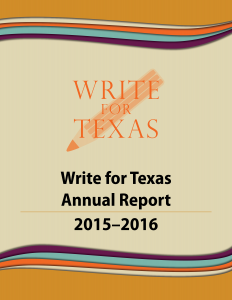 Findings reported in the 2015–2016 Write for Texas Annual Report illustrate the rapid growth and positive impact of the program across the state. 
The report synthesizes data from a wide range of sources, including Write for Texas coach and site staff reflections, field-based activity reports, and teacher and administrator survey responses from schools that Write for Texas supports. Data indicate impressive project outcomes, with 83% of respondents reporting improvement in student reading and writing skills and 82% seeing increased student engagement.
In addition to profiling the unique structure and components of Write for Texas, the report presents information on the schools (more than 200 schools in more than 100 districts) and educators supported by the project. Highlights include frequency measures of classroom teaching routines and anecdotal evidence showing the positive influence Write for Texas coaches and materials have on staff development to improve academic reading and writing instruction in the secondary grades.
Now entering its third year, the program continues to grow its coaching cadre and designate more Write for Texas districts and schools seeking to develop teachers and students using instructional best practices.
For more information, download the 2015–2016 Write for Texas Annual Report or visit the Write for Texas website.