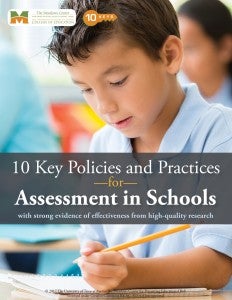 Experts from The Meadows Center for Preventing Educational Risk (MCPER) and nationally recognized researchers have condensed the knowledge from a broad range of research into 10 practical ideas that states, school districts, and schools can use to improve assessment practices and outcomes.
"10 Key Policies and Practices for Assessment in Schools With Strong Evidence of Effectiveness From High-Quality Research" is a concise document that offers recommendations and examples stated in clear language that are grounded in findings from solid research studies. Topics include school leadership's role in teachers understanding curricula and standards across grades; assessment used to enhance, not just measure, student learning; the frequency of and intervals between tests; strategies to avoid; and more. Also included is a full list of the research studies cited. The document is the eighth installment of MCPER's "10 Key" series, which features similar lists of practical, research-based recommendations for specific topics of interest to educators.
Download "10 Key Policies and Practices for Assessment in Schools" today from the MCPER Library.